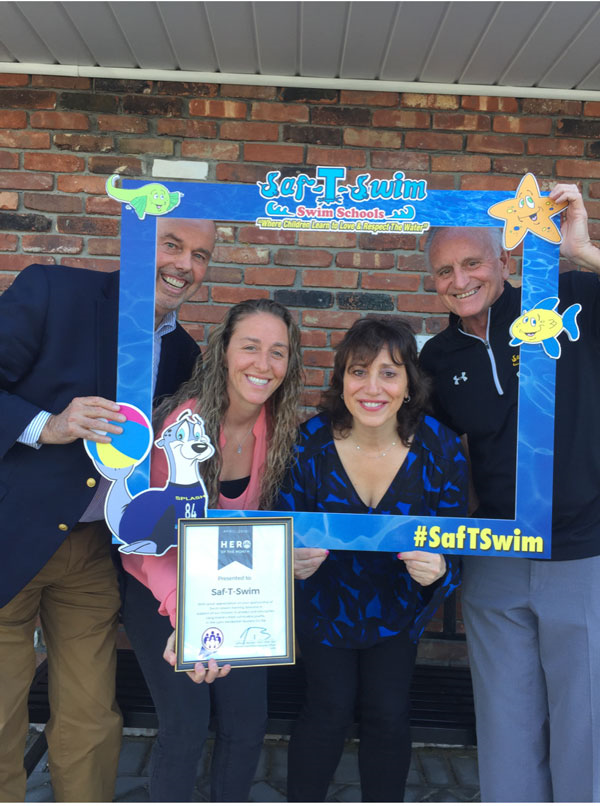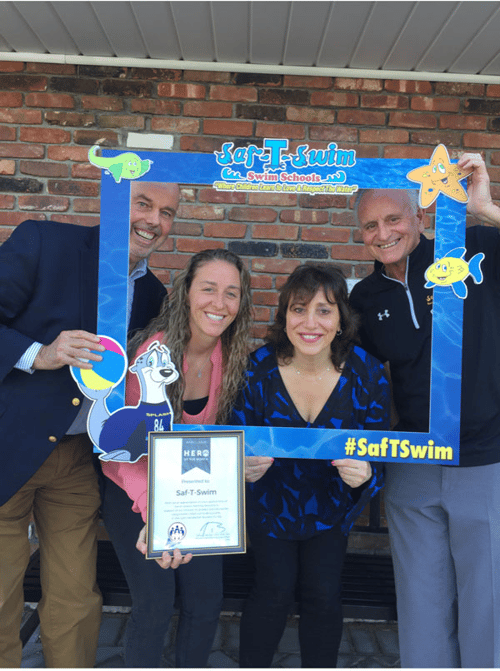 MINEOLA, NEW YORK, May 18, 2018 – Long Island organization Saf-T-Swim has been named Family & Children's Association (FCA)'s "Hero of the Month" for April. With multiple locations in Nassau and Suffolk Counties, the year-round swim school is a leader in water safety education. They are dedicated to teaching people lifelong swimming skills and how to love and respect the water.
Children attending FCA's Lynn Vanderhall Nursery Co-Op were selected to take part in an 18-week pilot program. It was launched to enhance awareness and funding for swim education and water safety initiatives. The program, a collaborative effort between Saf-T-Swim, Inc., Horizon Media, Real Change Productions and the Marcie Mazzola Foundation. Further more they have aims to provide vital water safety skills at no cost to children in low income or single parent families. FCA was recommended for the program by Nancy Mazzola, President/CEO, Marcie Mazzola Foundation. (Pictured L to R): Don Holden, Chief Development Officer, FCA; Danielle Hazen, Marketing Director. Saf-T-Swim; Roseann Sagginario, Broadcast Group Manager, Horizon Media and Ambassador and Water Safety Advocate for 13 Strong and partner. Real Change Productions; Jim Hazen, Owner/CEO, Saf-T Swim.
Currently, 15 students from the Nursery Co-Op (ages 2 ½ to 13) attend the program on Tuesday evenings. They take part in 90-minute individual and group swim lessons at Saf-T-Swim's Westbury location. Classes are structured according to children's ages and swimming ability.
OUR FUNDRAISING EFFORT
Fundraising efforts for the program were led by Roseann Sagginario, Broadcast Group Manager, Horizon Media, and Ambassador and Water Safety Advocate for 13 Strong and partner, Real Change Productions. "I was inspired by my sons' love of the water to create the 13 Strong 'Swim-Tips' Initiative. To build awareness about the importance of water safety for our children in the US," Sagginario said.
Jim Hazen, Owner/CEO Saf-T-Swim, explained, "In our programs, we begin educating children at two or three months old since they haven't been conditioned to fear water yet." With backyard pool drowning ranking as the second leading cause of death of children under the age of 5, teaching water safety skills is essential. "It's vital to teach kids how to stay calm and paddle over to the side or even turn over and float on their back if they fall in the water," Hazen said.
According to Ana Castillo, Nursery Coordinator of the Lynn Vanderhall Nursery Co-Op, children are learning fast and regularly receive rewards for their achievements. Families are equally pleased. "The parents are so excited and tell us how much their kids love coming to the swimming lessons. They keep asking for Tuesday to come," Castillo said. "Parents are also very thankful to the trainers because they are doing a really good job teaching their children, and they have been very patient with them."
Don Holden, Chief Development Officer at FCA, who presented April's "Hero of the Month" award to Danielle and Jim Hazen of Saf-T Swim, said, "The kids are having a ball. She continues, "They are learning vital skills that will serve them well throughout their lives. We can't thank Jim, Danielle and Roseann enough for all they are doing to further the mission of FCA."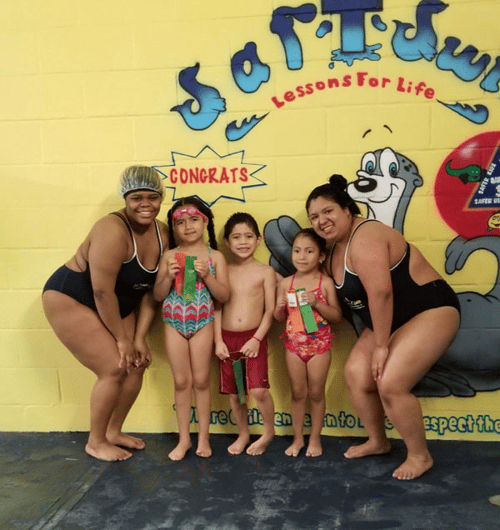 ABOUT FAMILY & CHILDREN'S ASSOCIATION (FCA)
FCA is a not-for-profit agency helping more than 30,000 Long Islanders each year. For more than 130 years, the organization has worked to protect and strengthen vulnerable children, seniors, families and communities on Long Island.
Through an integrated network of services and counseling, FCA provides help and hope to under-served and disadvantaged individuals struggling to build better lives. The agency also offers Addiction Prevention, Treatment and Recovery Services, Family Education & Support, Children's Mental Health Services, Adult & Senior Services and Residential Care Programs.
FCA has been nationally recognized as a model of excellence, fiscally sound, well-managed and possessing an impeccable reputation in providing community-based social services. The agency also embraces more than 200 individual volunteers, corporate groups, community groups and sponsors who join together to be part of something bigger than them.
For more information about FCA, visit www.familyandchildrens.org.
About Saf-T-Swim
Saf-T-Swim is a year round swim school dedicated to teaching people how to love and respect the water. Its many facilities on Long Island offer unique and fun programs for all ages, from infants to seniors. Therefore Saf-T-Swim is committed to providing every student with a safe, attentive, fun environment to learn lifelong swimming skills. Likewise many students begin as infants and continue to attend Saf-T-Swim for many years. Students also are working their way through the organization's various swim levels and programs.
For more information about Saf-T-Swim, visit www.saf-t-swim.com.