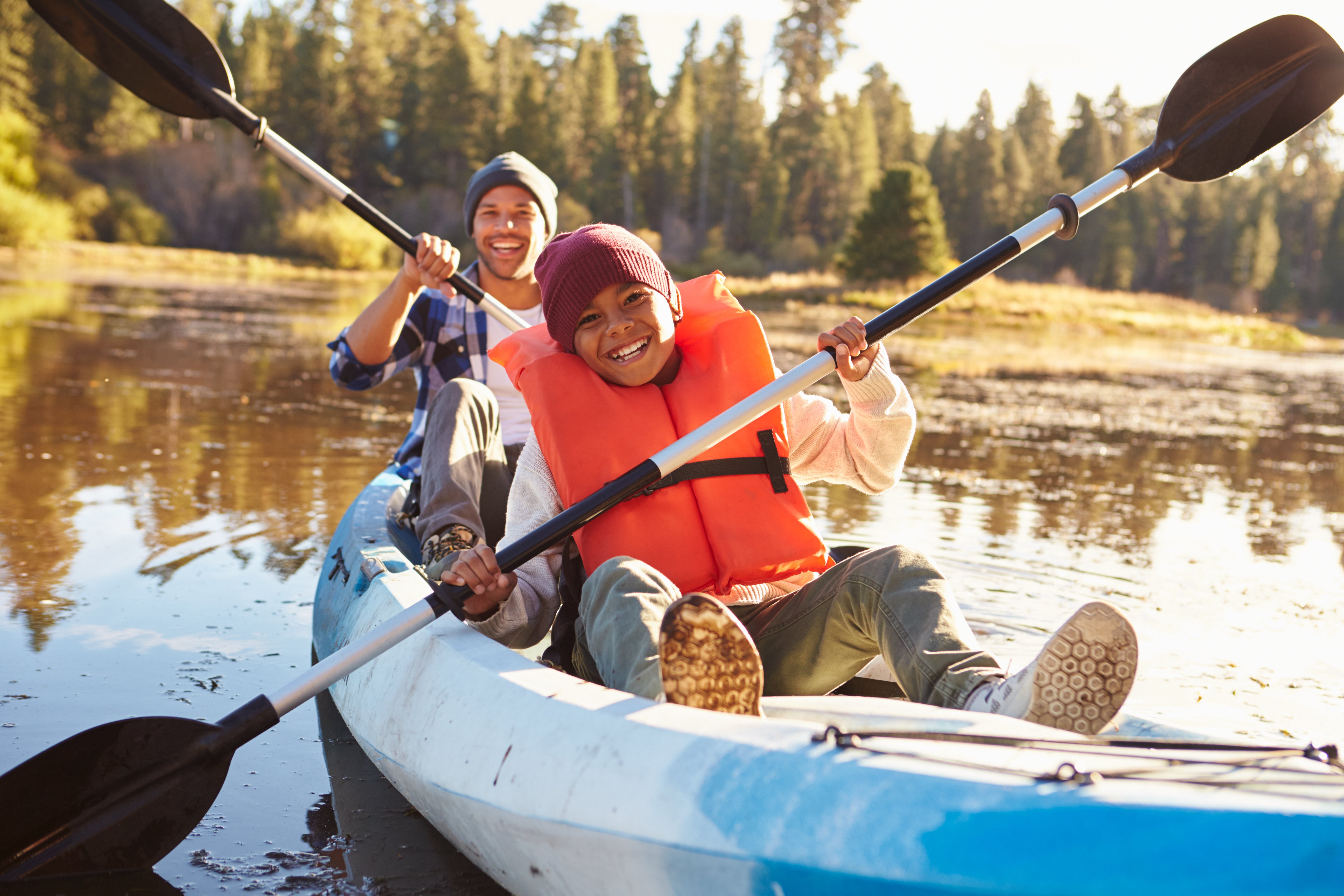 With Old Man Winter in the rearview mirror, the days are getting longer, and the temps are getting warmer. Families are itching to head outdoors for some blue skies, warm sun, and some good ol' fashioned family fun.
If you're looking for some new ideas to try, why not investigate activities to do on lakes and rivers? Here are some ideas for you to try.
1) Pan for Gold
Gather up some mesh strainers and head out to a low-rising riverbed. Then, start prospecting! Who knows what you'll unearth?!
OK, so it might not be the height of the San Francisco gold rush. But it's a great time to discuss that part of history with your kids.
2) Look Under Rocks
After you've prospected your fortune in gold, shelve the strainers for a science lesson. Turn over rocks in that same riverbed to see what you find. There are all sorts of small organisms and aquatic life forms that serve as food sources for the other river life forms.
3) Learn about Frogs
You might even find a frog or two when turning over those rocks. Shallow riverbeds are a great place to study biology and see river life, such as a frog, in its natural habitat. Be careful not to disturb or hurt them. After all, you're in their element.
4) Swim to a Dock
Maybe you've decided on a day of sun and swimming in a lake. Find one with a floating dock secured by an anchor. The dock provides hours of fun in and out of the water. Perfect your diving form off the dock – or stick with cannonballs if diving isn't your thing. You can dry off and catch some vitamin D from the sun. Be sure to apply that sunscreen (SPF 30 or higher to prevent burns).
5) Row Boats and Kayaks
Rowing a boat is a fun family activity that provides an up-close look at a lake's natural habitat. Row close to the shoreline to get a good look at any lake life and the vegetation that grows along the water's edge. Or row in the middle of the lake to try to get a view of what's swimming below.
You can try kayaking too. Rowing a boat might be a bit much if you have small children. Mom and dad, grab those oars! Kayaking is an easier option as the kayak is smaller, lightweight, and paddling tends to be a simpler motion.
Many beaches with lake access provide rowboats and kayaks available for beachgoers to use or rent. Rowing a boat or kayaking are both great ways to see the serene beauty of a lake while spending quality time with your children. Make sure everyone in the boat wears a life jacket.
6) Skipping Rocks
Think back to your childhood and the fond memories of skipping rocks on a pond or lake. First, you searched around for the right skipper rock. A flat and smooth surface made for the best skips.
Once you found your rock, then it was all about your form. Hold it between your pointer finger and thumb. Drop down to get your arm angle right. And then a simple flick of the wrist. One, two, and maybe a third skip – if you're good.
What could be more fun than passing on a childhood memory of yours to your children?!
Water Safety
No matter what activity your family opts for on rivers, lakes, and streams, water safety is of the utmost importance. Everyone in your family should know how to swim – even the little ones.
Maybe your kids are behind on their lessons. Or you're a bit rusty in the water. Regardless, Saf-T-Swim offers lessons for any skill level and all ages. So don't wait! Find a Saf-T-Swim near you today and schedule those lessons!
Warm, sunny days go hand-in-hand with the outdoors. And what better company to spend them with than your family? There certainly are some great ways to spend a day together on nearby rivers and lakes. Search online for "rivers and lakes near me" to get started on this latest adventure!